Are You Writing Your Book Backwards?
When someone is going to write a book often their first step is to open a computer file and begin writing a manuscript. Day after day they write their book until they finish, then wonder how to get it published.
You aren't alone. Over 80% of people feel like
they should write a book and get paid for it.
These authors are dismayed to learn that editors and literary agents do not read book manuscripts. They read a specialized document called a book proposal.
These unpublished writers do not understand how 80 to 90 percent of books are sold. Because of a lack of understanding, unpublished authors never sell their book manuscript to a publisher. Instead they gather some rejection slips and retire their book to a desk drawer or they plunge into self-publishing (more about this below.
If you want to sell your book idea, then you need this book. I wrote this book as a frustrated acquisitions editor. I was not receiving the types of submissions that I needed to convince my colleagues inside the publisher to give the writer a contract. Often they were missing a key element or didn't include the information we needed to make a decision.
Book Proposals That Sell has garnered over 130 Five Star Amazon reviews. Hundreds of people have used this book to:
Get an advance for their book (sometimes thousands)

Get a traditional publisher
But I'm going to self-publish, do I still need Book Proposals That Sell?
Yes. The average self-published book sells less than 200 copies. While it may sound simple to create a Kindle book or CreateSpace or Lulu or any number of the 20+ Author Solutions companies, what people unskilled in publshing do not realize:
On average, these companies make over 50,000 titles a year

Your book is

only online

and will not be sold ion bookstores

You are 100% responsible for your content and marketing

Most of these books are poorly produced and book reviewers and other in the media (in general) are not interested in these books
Whether you are writing nonfiction, fiction or a children's book, this book will help you. Even if you self-publsh, you need to do the work to create a book proposal. Why?
The proposal is your game plan for your book. Through the creation, you will understand

Who is your target audience

What specific plans are you making to reach them?

What else is in the market for your book and what is your competition for your book?
This mysterious document includes many elements that will neveer appear in your manuscript--yet these elements are critical factors to publishing executives who will make a decision about whether to publish or reject your project.
From his years as a book acquisitions editor, Terry has often tried to convince the room of publishing executives (sales, marketing and editorial) to issue a book contract for an author's idea. Yet far too often the author has not given Terry the ammunition to successfully get these executives to give an enthusiastic "yes" to the author's idea.
The acquisitions editor is the first person to read tghe book proposals. This book contains his insight and experience regarding book proposals that sell. His stories and information will show you how to avoid the pitfalls of rejection.
Book Proposals That Sell has proven results. Numerous authors have used the information in this book to get a literary agent or a book contract.
You need Book Proposals That Sell, 21 Secrets To Speed Your Success. Thousands of authors have purchased Book Proposals That Sell for $15. In the last few weeks, I've purchased all of the remaining print copies of this book from my old publisher. Instead of the $15 retail price on the cover of this book, you can purchase this proven tool for only $8 plus shipping.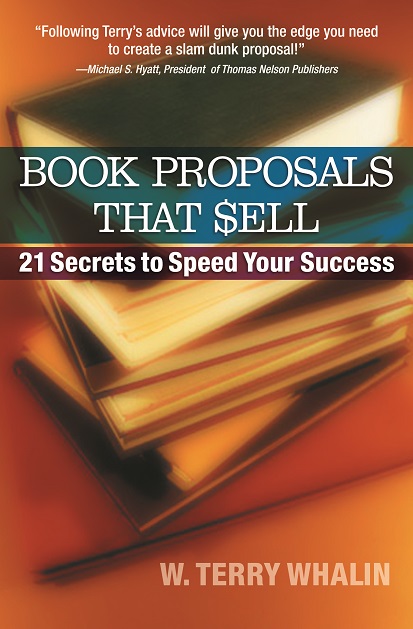 Here's other additions in Book Proposals That Sell:

a real nonfiction book proposal that Terry wrote (and an agent sold) for a six-figure advance from a traditional publisher.


a book proposal checklist


an annotated list of other book proposal books


another example of how to write a book proposal by Michael Hyatt, former CEO at Thomas Nelson and now the founder of Platform University.


Strategies for a Six-Figure Advance


a current list of literary agents.
Learn how to give the editor exactly what they need to champion your book idea.

Understand more about today's publishing environment.

Understand why editors barely have time to send a form rejection letter.

Understand how to distinguish your submission from the dozens of other book proposals on an editor's desk.

Understand how to track on the current trends in publishing and how you can beat this trend.

Understand how to capture the editor's attention for your project.

Understand despite the rejection--every editor and every literary agent is actively searching for new talent. The key is sending the right editor or the right agent the right book idea at the right time.
Praise for the techniques in "Book Proposals That Sell"
Here's what readers are saying about Book Proposals That Sell...
Book Proposals That Sellis your road map for bypassing the long, winding route that gets you nowhere and shows you the shortcuts for learning what publishers are really looking for.
--Heather Ivester, Georgia
Before you even think about writing a book, you need to read Terry's book. Finally, in helpful detail, we have an insider explaining what goes on in those mysterious caverns called publishing offices.
--Jeanne Zornes, Wentachee, Washington
Whalin uses his vast experience in the publishing business to lay out a step-by-step plan to write a proposal that will get your foot in the door. Even the fiction writer can gain much from Whalin's insight in this book.
--Ronald Estrada, Oxford, Michigan
Book Proposals That Sell would have saved me years of heartache and rejection. Whether you're an aspiring author or already published, this book will help fast-track your next proposal to an acceptance letter.
--Sean Young, Johannesburg, South Africa
I learned more about crafting a non-fiction proposal from Terry Whalin's book than I did from the three writers' conferences I've attended--and received huge dividends. By using the wealth of
information in Book Proposals That Sell, I was able to write a powerful proposal that, to borrow Terry's term, "snagged" an agent. Three months later I signed a contract for my first non-fiction book!
--Sharon L. Fawcett, New Brunswick, Canada
I'm a fiction writer and my copy is marked and dog-eared. Terry covers the publishing business, submissions process, how editorial decisions are made, the editors and authors jobs, and a whole host of things that every writer needs to know! No writer should be without this valuable resource!
--Bonnie Calhoun, New York

Normally my products comes with a money back guarantee but the stock is limited for this proven tool. At this link, you can see the guarantees and bonuses for my Ebook.
Book Proposals That $ell comes with a series of unique bonuses:
This book has been out several years and the computer links in the printed book are out of date. Because you've purchased the book directly from the author, you will receive a 33 page PDF with active weblinks to every resource in the book via email.

Since August 2012, I've been writing a column called Book Proposal Boot Camp for Southern Writer magazine. A year of these columns have been compiled into a 24-page ebook called Book Proposal Essentials. It's available exclusively when you purchase this book.

As additional teaching about proposals, I answered critical questions about proposal in a course called Proposal Secrets Course. The course contains answers to 50 common questions. When you purchase this book, you will receive three of these PDF answers which arrive in three separate emails.


If you already have a copy of this book, here's several suggestions:
1. Buy a copy for a friend. The price for this proven tool has never been so inexpensive and make a terrific gift.
2. Enroll in Terry's Write A Book Proposal Membership Course. It is his latest teaching on book proposal creation.
3. Buy a box of these books then sell them at your own conference or event for full price and make money on it.